Is the Creative Strings Academy right for me?
The Creative Strings Academy provides easy online training to help you become a more creative musician. With 24/7 access to 200+ course materials, you'll benefit from the direct guidance of Christian Howes, a former Associate Professor at Berklee College of Music and one of the world's most respected improvising violinist/educators.
Featuring online video lessons, fiddle camps, school visits, Skype lessons, and more, the Creative Strings Academy offers help for string players of all ages (and teachers too).
Enrollment to the Creative Strings Academy provides full access to:
200+ lesson videos
eBooks
Backing tracks
Online Community
Personalized coaching from Christian Howes
Violin Harmony Handbook
Electric Violin Training Kit
and More!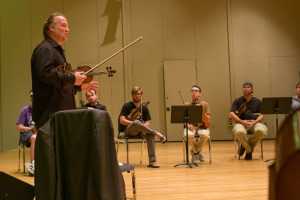 Teacher Testimonial
"I tried out some of Christian Howes'  improvisation exercises/games on our kids last Friday. They LOVED them… I was so surprised and really touched when I saw one of our students play and interact along with the group for the first time all semester."
Student Testimonials
"I learned a ton from you and it really has motivated me to get even more into music. The way you talked about music in general, as well as improvisation and music theory just really made sense to me in a way that it never has before."

"Music means more than sheet music – it has its own emotion and I have never felt that more true than last night playing Cascade. Having Christian Howes come and help us made me recognize what it was I loved about music, not because he is a professional but because he shares that love for music that I do."

"It was wonderful seeing so many people break their classical boundaries and simply play out the music of their hearts. Throughout the pieces, group unity was notably improved from rehearsals. Also, our intonation and tone quality were strikingly mature. I feel like this was truly an eye-opening experience, in that prior to this experience many of us were restricted to our orthodoxy and technical structure, but now we can play music to our heart's content. Music means something different for our orchestra's members now, and this is something we should cherish for the rest of our musical endeavors."
---
Christian Howes states "As a "Suzuki dad" I wanted to encourage my daughter to learn the things I missed out during my classical training; especially the creative side of music making. This is what led me to develop improvisation curriculum for string players as part of a method which teaches the "whole musician." Improvisation and composition in different styles add to the joy of being a musician."
Have questions? Christian is happy to take your calls at 614-332-8689