In this episode with Randall Williams:
– How Randall built his career starting as a singer songwriter living and traveling in his DIY vegetable-fueled van, to a music merchandise selling machine with several revenue streams.
– How Randall accessed and monetized his unique skills to a niche market
– The biggest surprise: how Randall got everything he dreamed of and why he ultimately changed direction.
– "The biggest piece is having an accurate sense of how you're perceived."
– "I don't think you should underestimate what it means to get someone in buying into your email list…"
Veggie Fueled Van
The conversion cost about three grand, and I did it alongside a team of mechanics in Denver, Go Green Early. The van is a 2006 Dodge Sprinter. Later-model Sprinters won't let you convert to veggie because the engine computers register a malfunction if the exhaust isn't pure diesel and they shut the van down. This conversion is a secondary (heated) fuel tank and a set of switches between them. It's a WVO (Waste Veggie Oil) system, so I pump right from a grease dumpster into the veggie fuel tank, going through three filters, then there are four more before the fuel gets to the engine. As far as I can tell, I get about the same mileage on veggie as I do on diesel. Yes, it smells like french fries, and yes, it's free. With a veggie oil system, you can't leave the veggie oil in the engine when you shut down, so you need to start on diesel, then switch tanks, then you need to switch back over to diesel about five minutes before shutting down, to make sure all the veggie oil is out of the engine.
It's very cool. I did once have an incident where I didn't pre-filter the oil – it caused all five of my injectors and my high-pressure pump to fail, to the tune of five grand in repairs, and ten days in a rental car touring New Jersey. Despite that, I'm not deterred – figuring out how to get off of fossil fuels is worth the risk. And the conversion and injector replacement are covered by the fuel savings, anyway.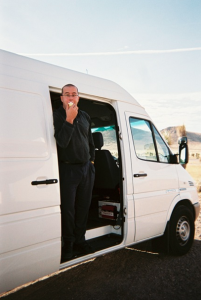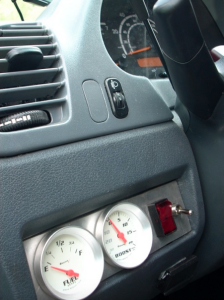 "Praying for Land" from the album Praying for Land
"Ghost in the Machine" from the album Praying for Land
"Around, Around Around" from a live performance
"Let Beauty Awake" by Ralph Vaughan Williams – live performance
Folk Festivals
In the episode Randall talks about routing his tours based on various folk music festivals. His main circuit was the Folk Alliance regional and national conferences. You can find out more at www.folkalliance.org
Randall also mentions these Folk Festivals
– Rocky Mountain Folk Festival
Bowed string player looking for tools to unleash your creativity? Visit our friends at the Electric Violin Shop. -your one-stop shop for electric instruments, amps, gear & accessories, and most of all, expertise. Use code CHOWES at checkout and take 5% off of your order.
Thanks for leaving comments below and letting us know what you think! Feel free to share this and subscribe at www.christianhowes.com/itunes or www.christianhowes.com/stitcher